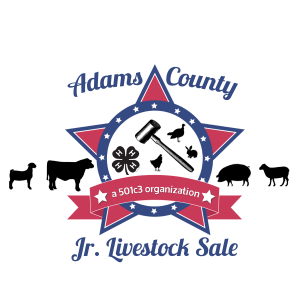 The Adams County Fair and Jr. Livestock Sale mark the culmination of hard work and commitment as 4-H youth exhibit and compete with new market projects each year. What they experience in the 4-H program adds to their lifetime of knowledge and leadership, which makes our community stronger. Your support of the sale benefits the young person whose animal you purchased in many ways, such as scholarships, college savings, and future 4-H projects.
The Adams County Junior Livestock Sale Committee is dedicated to the education of 4-H Youth and the general public about the livestock industry. In partnering with the Adams County 4-H Program, we provide a venue for the 4-H Youth Exhibitors to sell market livestock projects at the Adams County Fair. These young individuals can realize the rewards for the hard work and long hours required of their 4-H livestock projects.
The success of the Sale is made possible by the generous contributions and donations of individuals and businesses alike. If you are interested in becoming a sponsor or buyer, please contact us.
The Adams County Junior Livestock Sale is a 501c3 non-profit, so part or all of the animal purchase price may be tax deductible. Please consult your tax advisor for details.
Thank You for your support of the Jr. Livestock Sale!
Join us for the next auction on August 5th, 2023
Meetings are typically held on the first Thursday of odd months at 7:30pm. Times and location are posted in the Adams County 4-H Calendar.